New Baptist Health Care Campus Newborn Nursery to Honor Women's Board of Baptist Health Care Foundation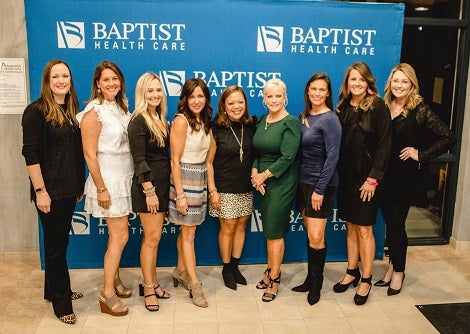 Pensacola, Fla. (Nov. 4, 2021) – The newborn nursery at the new Baptist Health Care campus at Brent Lane and I-110 will be named in honor of the Women's Board of Baptist Health Care Foundation in appreciation of the Board's longstanding support and fundraising efforts for the Foundation. The Women's Board 45th annual Stepping Out in Style Fashion Show held Oct. 28 raised nearly $120,000.
"We are grateful to the Women's Board for 45 years of support for our organization," said KC Gartman, chief development officer for Baptist Health Care. "The new nursery will welcome and care for babies born in our community for generations to come."
The fashion show is the largest fundraiser for the Women's Board of Baptist Health Care Foundation. Professional and local celebrity models showcased the latest fashions from Bluetique, Dillard's, Gulf Coast cabi Stylists, The Market and Mainly Shoes, and The South Outfitters.
Baptist Health Care Foundation is grateful for the support of the following sponsors: The Averett Family; Cat Country 98.7 and NewsRadio 92.3 and 1620 AM; FirstSource; Gresham Smith; Pensacola News Journal and Bella Magazine; Poarch Band of Creek Indians; Sandy Sansing Automotive; Acumen Medical + Interventional; Ballinger Publishing; Channel 3; Cox; Emerald Coast Hospice; Highpointe Hotel Corporation; Kia AutoSport of Pensacola; Moore/Harper Group – Merrill Lynch; and Voya Financial.
More information is available BaptistHealthCareFoundation.org or 850.469.7906.
###
CONTACT BELOW IS FOR MEDIA USE ONLY
For more information about this press release or to schedule an interview, please contact Kathy Bowers at 850.791.5254 or BHCMediaRelations@bhcpns.org.
About Baptist Health Care
Baptist Health Care is a not-for-profit health care organization based in northwest Florida that is committed to helping people throughout life's journey. The organization is a proud member of the Mayo Clinic Care Network. Baptist continuously strives to be a national leader in quality and service. Baptist Health Care includes three hospitals, four medical parks, Andrews Institute for Orthopaedics & Sports Medicine and a large network of primary care and specialty physicians. Baptist Health Care is one of the largest non-governmental employers in northwest Florida.
Baptist Health Care • Baptist Hospital • Gulf Breeze Hospital • Jay Hospital • Baptist Medical Parks Airport, Nine Mile, Navarre and Pace • Andrews Institute • Baptist Medical Group • Baptist Heart & Vascular Institute • Baptist Health Care Foundation • Mayo Clinic Care Network