Baptist Health Care Foundation Announces Hollinger Award Recipients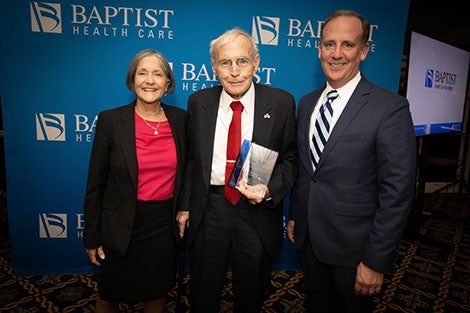 PENSACOLA, Fla. (Dec. 7, 2021) – Baptist Health Care Foundation has announced the 2021 Hollinger Award recipients for outstanding service contributions to Baptist Health Care. The awards are presented to individuals, families or organizations that have exhibited exceptional generosity and community leadership through gifts of their time and/or financial support.
"We are thrilled to recognize these outstanding individuals for their many contributions to our organization and our community," said KC Gartman, chief development officer for Baptist Health Care. "We are grateful for people who support our Mission of helping people throughout life's journey."
The award is named in memory of long-time supporters of Baptist Health Care Pick and Alberta Hollinger. The couple has worked tirelessly to improve the quality of life for those served by Baptist.
The 2021 recipients were recognized at the Baptist Health Care Foundation annual meeting on Nov. 17 at the Pensacola Yacht Club.
Volunteer of the Year
J. Clyde Broome
Women's Board Volunteer of the Year
Grace Sullivan
Health Care Professional of the Year
Toinetta Coolie, MSN, FNP-BC
Physician of the Year
Enrique Diaz, M.D.
###
CONTACT BELOW IS FOR MEDIA USE ONLY
For more information about this press release or to schedule an interview, please contact Kathy Bowers at 850.791.5254 or BHCMediaRelations@bhcpns.org.
About Baptist Health Care
Baptist Health Care is a not-for-profit health care organization based in northwest Florida that is committed to helping people throughout life's journey. The organization is a proud member of the Mayo Clinic Care Network. Baptist continuously strives to be a national leader in quality and service. Baptist Health Care includes three hospitals, four medical parks, Andrews Institute for Orthopaedics & Sports Medicine and a large network of primary care and specialty physicians. Baptist Health Care is one of the largest non-governmental employers in northwest Florida.
Baptist Health Care • Baptist Hospital • Gulf Breeze Hospital • Jay Hospital • Baptist Medical Parks Airport, Nine Mile, Navarre and Pace • Andrews Institute • Baptist Medical Group • Baptist Heart & Vascular Institute • Baptist Health Care Foundation • Mayo Clinic Care Network