8th Annual Casino Royale Gala Raises Nearly $300,000 for Baptist Health Care Foundation Benefitting New Baptist Hospital Campus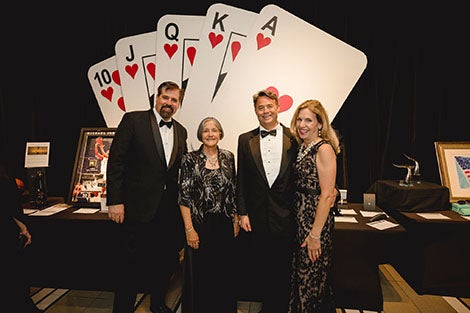 PENSACOLA, Fla. (April 18, 2022) – Baptist Health Care Foundation's 8th annual Casino Royale gala raised nearly $300,000. Proceeds will benefit the new Baptist Hospital campus at Brent Lane and I-110.
"We are grateful for the continuous community support of the Baptist Health Care Foundation," said KC Gartman, chief development officer, Baptist Health Care. "It is because of our many generous partners that our Casino Royale gala was the most successful event to date. These gifts will allow us to create a lasting impact through the new Baptist Hospital campus for generations to come."
Each year, proceeds from Casino Royale are used to support life-changing programs, services and technology at Baptist Health Care. Past events have supported the new Baptist Hospital campus, the highest-priority needs during the COVID-19 pandemic and renovations to Baptist Hospital's progressive care unit.
To learn more about the Baptist Health Care Foundation or to make a contribution, call 850.469.7906 or visit baptisthealthcarefoundation.org.
###
Editor's note: Photo attached. Pictured left to right: Event emcee Brent Lane, BHCF board chair Margaret Stopp, BHCF board member Kristin Longley and Rusty Longley
CONTACT BELOW IS FOR MEDIA USE ONLY
For more information about this press release or to schedule an interview, please contact Kathy Bowers at 850.791.5254 or BHCMediaRelations@bhcpns.org.
About Baptist Health Care
Baptist Health Care is a not-for-profit health care organization based in northwest Florida that is committed to helping people throughout life's journey. The organization is a proud member of the Mayo Clinic Care Network. Baptist continuously strives to be a national leader in quality and service. Baptist Health Care includes three hospitals, four medical parks, Andrews Institute for Orthopaedics & Sports Medicine and a large network of primary care and specialty physicians. Baptist Health Care is one of the largest non-governmental employers in northwest Florida.
Baptist Health Care • Baptist Hospital • Gulf Breeze Hospital • Jay Hospital • Baptist Medical Parks Airport, Nine Mile, Navarre and Pace • Andrews Institute • Baptist Medical Group • Baptist Heart & Vascular Institute • Baptist Health Care Foundation • Mayo Clinic Care Network