Chad and Brooke Henderson: Honoring Family and Giving Back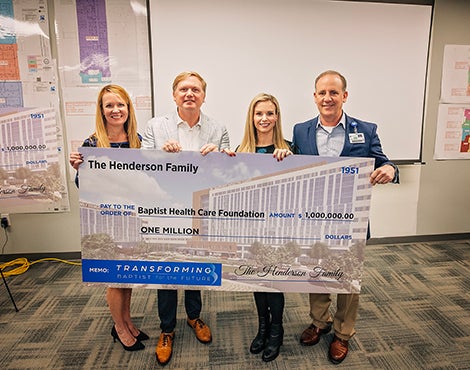 KC Gartman, Chad Henderson, Brooke Henderson, Mark Faulkner
A strong sense of family has been at the forefront of Chad and Brooke Henderson's life journey. Both have been strongly influenced by the important role of family in shaping their beliefs, priorities and actions. Growing up, each of their grandparents led by example in showcasing the significant positive impact of hard work coupled with genuine care and gratitude for their loved ones and respective communities.
It is with this mindset that Chad and Brooke are extremely proud to donate a transformational gift of $1 million to the Foundation's Transforming Baptist for the Future campaign in the spirit of Chad's grandparents, Arch and Lorraine Henderson of Pensacola, Florida. In honor of this gift, the new 80,000-square-foot medical office building on the new Baptist Hospital campus will be named the Henderson Health Center.
"Much like the goal of the new medical office building, my grandparents always fostered an environment of welcoming and well-being, a place to be cared for and healed," Chad said. "Brooke and I are so proud to honor the spirit of Arch and Lorraine Henderson with this gift."
Chad and Brooke have amassed numerous memories with Baptist Health Care over the years. They have four children – Charlie, Archie, Mary Jean and Hattie – all of whom were born at Baptist. In addition, both have had parents and grandparents who have received significant and meaningful care at Baptist. They wanted to give back to Baptist in a meaningful way that would have lasting impact for years to come. For that reason, they chose to support the growth at the new Baptist Hospital campus through the Transforming Baptist for the Future campaign.
"The phenomenal care we have received and the quality of people at Baptist have been impactful for us personally," Brooke said. "These are moments that signify our life."
"Given my line of work, I have traveled around and interacted with other health care entities across the country, and this has helped in understanding just how important access to quality health care is for a community to thrive and grow," Chad said. "It makes you appreciate just how impactful this new health care campus will be for years to come; it will play a pivotal role in moving our community forward."
Chad and Brooke have a strong affinity towards Northwest Florida as they both grew up in the Panhandle, Brooke from Niceville and Chad from West Pensacola. They both are alumni of Florida State University and go back to Tallahassee often for FSU football games.
Chad founded Catalyst Healthcare Real Estate more than 10 years ago. The company is based in Pensacola and has seen tremendous growth and success in the health care real estate industry, now managing assets in more than 25 states and regional offices in Milwaukee, Dallas, Atlanta and Central Florida.
"We think about how impressive this project is and the positive influence it will have on Northwest Florida," Brooke said. "We are grateful to live in a community with a provider like Baptist that has made such a significant long-term commitment by investing in this new campus."
"To be able to play the hand for the long game and create the crown jewel of health care in our region is extraordinary," Chad said. "There have been very few projects in our region as impactful as this one."
For Chad and Brooke, their journey – personally, professionally and philanthropically – is just beginning. Brooke is president of the PTO at the Sacred Heart Cathedral School where their children attend. Chad has been involved at the Studer Community Institute and the University of West Florida. They said they will continue connecting with organizations that they feel have an impactful mission, vision, and values – especially ones that support our community, children or our military.
"One of the things that's most important to us is to lead by example, just as our grandparents did," Chad said. "We are blessed and fortunate enough to have had some financial success, so we want to give back and positively impact others. This is our first gift of this magnitude, and I hope it's not the last."